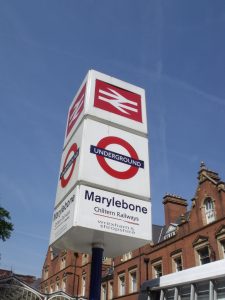 As a student in France, I always planned on doing an Erasmus year so I could see the world while I am young and also learn a new language. England always appealed to me as as I already had basic knowledge of the language, what better way to develop it further than moving to London for a year. I organised a lovely flat share with a few other international students in the Marylebone area of the city and thought it was amazing. Marylebone is a very chic residential area in London that has village vibes and a great sense of community. Scattered with vintage boutiques and independent retail stores, it is a hub for creativity and adventures. It attracts many tourists due to its busy high street and being the home to Madame Tussauds and also the Sherlock Holmes museum. It possesses some of the most beautiful architect in the city and really represents what London is about, past and present. However, it did have one secret hidden gem that would soon become my new obsession – a tantric massage parlour.
London really is a city of culture and fascination, discovery and all things amazing –not only can you learn about British life and history but you can also learn about different countries and different traditions they have. However, what I learnt the most was about myself and what I want and also need sexually.
It all started after a long day of enrolment and classes, the move to a new country and the culture shock all hit me at once and I suddenly felt overwhelmed with emotion and didn't know how I could relief this stress as I didn't really know my new flat mates and did not want to unload my emotions on to them so soon. I took out my laptop and began to Google ways to reduce stress and tension quickly and a massage came up quite frequently. Therefore, I searched massage therapy in Marylebone when I came across a phone number. I gave the number a call and was greeted on the phone by a lovely and very helpful lady that booked me in for the next hour. I made my way to the massage centre and was greeted by one of the most attractive women I have ever met in my life behind reception when she directed me to a room, where an even more attractive lady was waiting for me. I got a nervous rush over my body and butterflies in my stomach thinking that surely this stunning woman in front of me could not be my masseuse? She was an Asian lady with the pretty, bright eyes and a warm smile that but my nerves at ease. I then realised that this place was not a normal massage therapy centre but in fact, an erotic massage parlour. I thought about leaving for second but was too intrigued and the beauty of the stunning, Oriental masseuse who I could not take my eyes off.
I quickly noticed that there was no massage table; it was simply just a bed with crisp white sheets. She directed me to lie on the bed on my stomach and she began to pour sweetly scented creams all over my back and began to rub it in gently. Her hands felt so soft and I could tell she had been trained to a professionally level due to the standard in which she was massaging me in. I suddenly felt all the tension and knots in my back and rest of my body disappear and it felt as if a huge weight had been lifted off my shoulders.  Her soothing touched helped me feel rejuvenated and I knew that I would leave the massage parlour feeling like a new man.
However, I was not prepared for what would happen next and this made everything so much more exciting. The only thing I was wearing was a small white towel wrapped around my waist. The beautiful Asian masseuse turned me over from my stomach to my back so that I was facing the roof when she slowly removed my towel, leaving me completely naked. She then mounted me and we were face to face, I could feel her perky breasts brush off me and I immediately became very hard. I couldn't believe this was happening to me, after all the stress and worry, this felt like a dream come true. Putting more oil on her hands, she took my penis and began massaging it with passion. And care. She started of slowly and sensually and my breathing became harder and longer. As she did this, her body moved up and down on mine and our movements became in sync with one another's.  Her boobs began to bounce up and down as our movement began to speed up.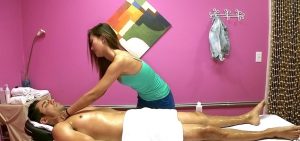 She began to make a noise and it was so sexy and high pitched which was turning me on even more. I couldn't take my eyes off her and she looked like she was enjoying bouncing on my penis which was also a huge turn on for me. Although we hadn't even done as much as exchanging names, she had the power to create a deep bond between us and I felt so much intimacy with her compared to other sexual experiences I had previously.
I could tell she cared about looking after me both physically and mentally. She watched carefully to my movements and reactions and gave me exactly what I wanted. I had never been with an oriental woman before or a masseuse at that, but I knew in that instant that this would not be the last time. It was amazing to see how much of an effort she put into me and how unique and individual my session was. I could tell she truly was a professional with a love for what she does was clearly shown throughout my time with her.
When I finally climaxed, it was the longest and most intense orgasm I had ever experienced. My body electrified with pleasure and I no longer felt stressed, anxious or tense.
It is safe to say that although my first time at a tantric massage parlour was a surprise and not planned, it was easily the best thing I have ever experienced. I tried a few other massage parlours in London afterwards but none of them compared to my time with that stunning Asian masseuse at the Marylebone massage parlour.