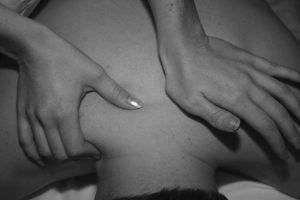 Everyone knows that massages are highly relaxing, soothing and give us a huge sense of relieve and happiness. However, when it comes to erotic massages, they are definitely a lot more taboo than your normal traditional massage therapy sessions.
But which one is better? An erotic body to body massage or a traditional spa massage?
I've took to the streets of London to ask our men which type of massage service they prefer and to rate them both out of ten so we can finally make up our mind!
Paul, 32
Traditional – Traditional Spa massages are an amazing day out to relax and have fun with your friends. I enjoy going for a swim, using the sauna and steam room and finally having a massage that focuses on releasing tension or muscle pain I have. The masseuse is always professional and talks throughout the massage to ensure that I am comfortable with everything. However, I do not get to choose if it is a male or female masseuse, I am allocated whoever is free or working that day. Overall, I would give the traditional massage a 5/10 as it is relaxing and does help with some of the tension I have. 5/10
Body to body – A body to body massage for me, is a lot more intense than a regular spa massage. It reaches more points of my body and overall the cleanse and effort is a lot deeper. I always feel more relieved after a body to body massage and it is nice being able to choose the masseuse I want, as I only want a female masseuse to perform the therapy on me. The overall experience is a lot more soothing as the masseuse does not talk throughout the session, she asked me beforehand for my preferences and then I put my trust in her that she knows what she is doing. 7/10
Thomas, 21
Traditional – As I am an athlete and do a lot of exercise, my muscles often become highly sore and this can cause a lot of pain for me. Getting a traditional sports massage is a good way to soothe any pan I am feeling and get me back on the mend so I can start training again, rather than being injured. Even if a massage is short it is still very effective and I can feel the benefits of it almost right away. Many other athletes that I train with have also said how a massage is an unmissable an extremely crucial part of their 'physical conditioning regime', therefore I try to get one at least twice a week. 8/10
Body to body – I have tried a body to body massage a few times and although I enjoyed it, I do not think they are effective as my regular sports massage. I have a busy schedule, therefore if I am going to take time to get a massage twice a week then I would rather receive a proper sports massage that will help me with my training. Although body to body are extremely arousing and help me to relieve in other ways, I prefer a traditional massage. 5/10
Lloyd, 25
Traditional – I really do not enjoy traditional massage as I find it very boring and not exhilarating enough for my needs. I have a very colourful mind when it comes to body contact between two people and I find that a traditional massage does not please me enough. I like things to be a lot more sensual and erotic, and a regular massage does not provide me with this.  I think sometimes the massage does not relax me enough and my mind is always on the more sexual side of massage therapy therefore I cannot fully enjoy it. I find at times the masseuse is doing her job without any passion or emotion and her mind is on different things which makes me feel uncomfortable. 3/10
Body to body – I love body to body massages. Not only are they extremely relaxing and effective and do all the things to your body a normal massage is meant to do, they also bring you an intense and pleasurable orgasm. The masseuse is always happy to ask for my preferences and desires which makes the experience a whole lot better as I get exactly what I want and what I have paid for. Both the masseuse and myself are naked and she uses her body to rub against mine, utilizing her curves perfectly. She focuses on my genitals and pays extra attention to them, which always gets me fully aroused. The good thing about a body to body massage is that you always get to touch the masseuse too; therefore I get to place my hands on her breasts and bum. The masseuse has a lot of passion throughout the session and I can see she enjoys her profession and takes it very seriously. Many of the masseuses have been trained at some of the most elite massage therapy schools and have been carefully selected to do this job; therefore I know I am in good hands. +10/10
Ultimately, although men do enjoy traditional massages whether they be for sporting reasons, medical or simply pleasure – it is the body to body erotic massage that rises above. A body to body massage offers you everything a regular massage does, and more. IT soothes you, relaxes you and brings you to that place of tranquillity. However, it does not end there because they masseuse then brings you on a rollercoaster of pleasure and gives you the most intense orgasm you will ever experience. You will feel like you are in orgasm heaven while an Asian masseuse will tend to your very need, emotionally, physically and sexually.
The majority of men I interviewed agreed that they enjoyed regular, traditional massages but that body to body massages got the highest rating!
I advise that you try both types of massages to see which one you prefer the best, I bet it will be a body to body massage! Intrested in booking a b2b massage in London? Call us on 07990486678