4 hands massage has taken the U.K by storm over the last number of years with more clients' asking for this service and a bigger demand for Asian masseuses to work in London. However, this comes as no surprise, after all four is certainly better than four. Double the hands, double the fun!
Many men have said that they are very eager to try 4 hands massages but are often too nervous or apprehensive about getting one. Therefore, I am here to be your knight in shining armour and give you a step by step guide on how to prepare for a four hands massage if you wish to receive one.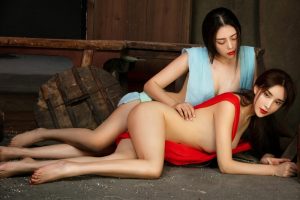 Step 1 – Make sure you know exactly what a four hands massage is
Many men are not entirely sure as to what four hands massage is which often prevents them from having one. A four hands massage is basically like your regular erotic or sensual massage, except it is performed by two masseuses, and much better. The masseuses can work on different parts of your body at the same time which obviously brings more intense and higher levels of pleasure for the client.
Step 2 – Make sure you are clean
It is crucial to make sure you have good hygiene and are clean before you receive any sort of massage, as it makes life a lot easier for both you and the masseuse. If you are unclean, dirty and sweaty you might feel slightly uncomfortable, as will the massage therapist, which really is not the ideal way to begin a session that is meant to be calm and relaxing.
By being clean, you are also making it a lot easier for the masseuse to apply the special oils and gels onto your body. If you have dirty or sweaty skin, this may prove rather difficult and you will not receive the full potential of a 4 hands massage. Especially as there will be three of you participating in a 4 hands massage session, it will be a lot easier if all three of you are in top form and squeaky clean.
Step 3 – Know what service you want with the 4 hands massage
Four hands massages work best when the masseuses can plan it before hand and work together in a synchronized form as this brings greater pleasure for the client. If the masseuses are unsure as to what service you want on top of the 4 hands massage then this can ruin the flow of the session, causing pauses, talk and interruption which is not what you want. To avoid this, it is best to decide whether you would like a happy ending massage or full service massage before the session. This means the massage therapists can come up with a routine to ensure that your massage runs smoothly and is as pleasurable as it possibly can be. Also, if you opt for extras such as a prostate massage, it allows the masseuses to pick what girls focus on what part of the body at different times.
Step 4 – Know what girls you want
Many of the men come into the massage parlour without having thought about which two girls they want to perform the four hands massage which can often cause problems. Many men are satisfied with one of the masseuses but not the other, many men want two girls who are quite similar while others may want two girls are the polar opposite of one another. To ensure you receive the best possible four hands experience you possibly can, we advise that you have a rough idea of what sort of set up you want prior to your session so we can accommodate you.
Step 5 – Relax and enjoy it!
So many of our clients are extremely eager to try a four hands massage, and it is many men's number one sexually fantasy. However, this is usually hindered by their nerves. Many of the clients are too worried or panicked about the idea of having two women tend to their body and this ruins their massage for them as they are not relaxed in the slightest. To full enjoy your four hands massage you need to ensure that you are calm and relaxed, this will make the atmosphere a lot nicer for you and the masseuses. Things will run a lot more smoothly if you trust that the massage therapists will take care of you, and it is guaranteed to feel a whole lot better this way.
So, there you have it – a step by step guide on how to prepare properly and efficiently for a four hands massage. If you follow this guide you are sure to have the best experience of your life, trust me! Thinking of booking a 4 hands massage? Have a read of our 4 Hands service page for London.  Or call us on 07990486678